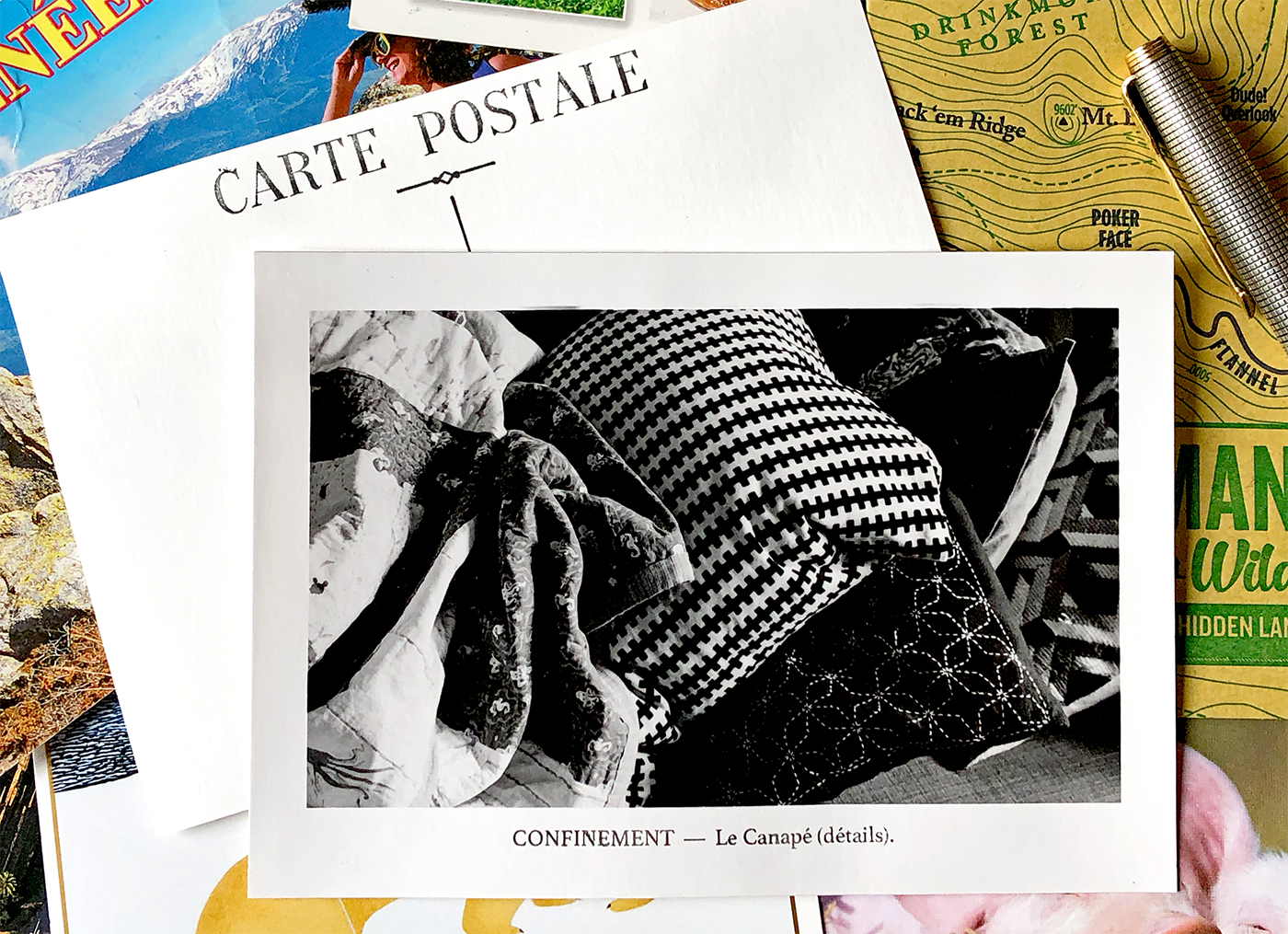 Dear parents…
It is Easter time. We had planned to go to the mountains to celebrate my mother's birthday. The whole family would have reunited once again from France and Belgium at the Franco-Spanish border, like a seasonal migration. We would have gone on a hike, along a winding path, protected from the sun by the mountain pine trees. A picnic in the grass, and a nice bottle of Rioja wine would have wrapped us in a gentle torpor, reading a book in the shade or napping in a feeling of sheer happiness. 
The Coronavirus outbreak put a stop to that perspective, and we are confined in our small Paris apartment, without a yard, or even a balcony. Days have gone by and my phone started to remind me it was time to leave for Easter vacation. And then, instead of the rolling landscape I was supposed to see, I took a long look around me. This sofa, this table, this bed: the apartment actually became the so-desired scenery from my vacation.
I decided to tell everybody I was on vacation. And, when you think about it, is there any better vacation symbol than a postcard?
It was obvious that I had to make my own postcards, wasn't it?
The postcards process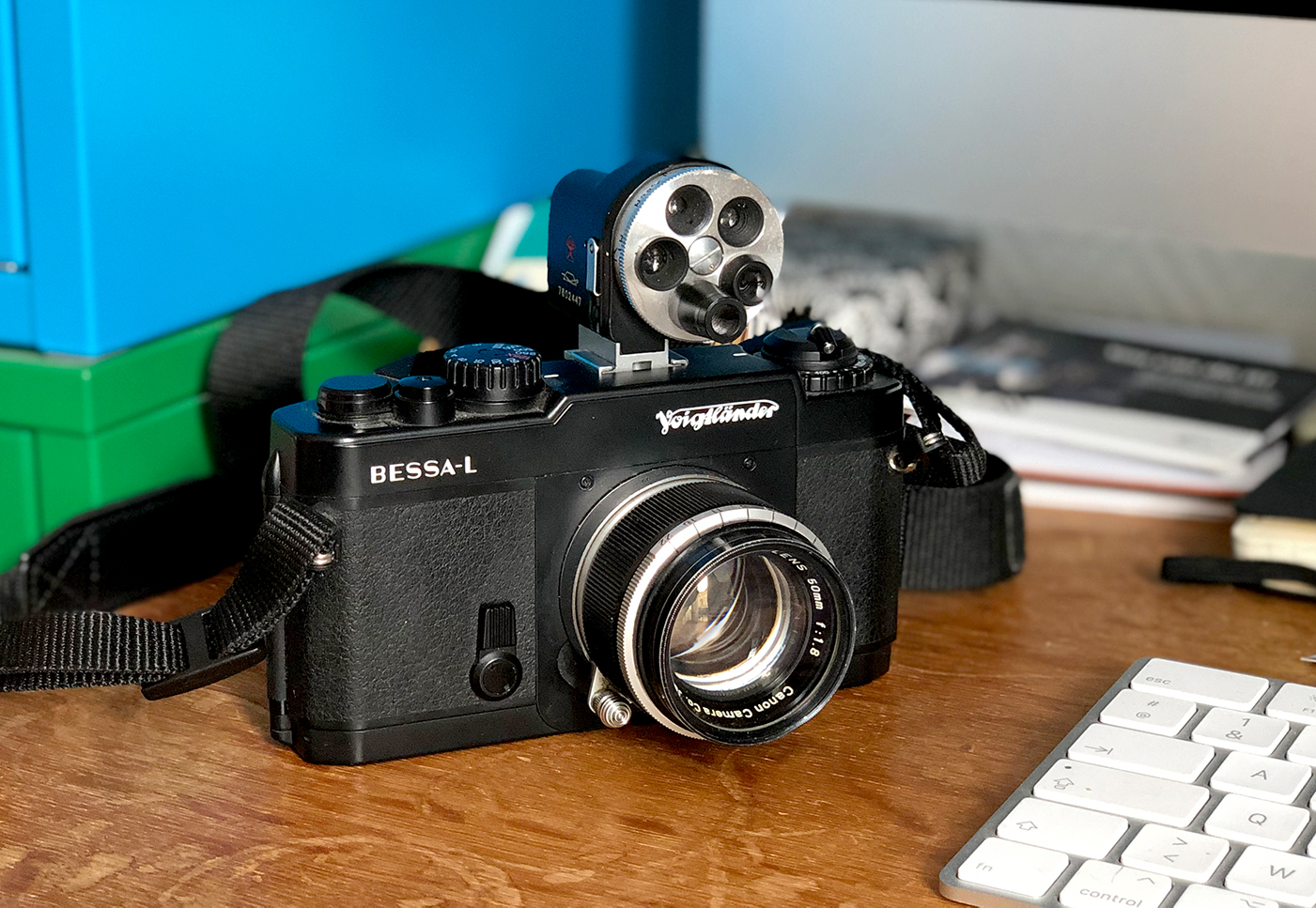 First, I needed material for the postcards. I had a loaded film in my Voigtlander Bessa L, and took random pictures of the apartment. Most of them were taken using a Canon 50mm f:1.8 lens. I then processed the film (Ilford FP4, in D76 1+3).
Once the photo lab was set up in the bathroom, I printed them on fiber-based paper (you can see them being washed in the image below), and dried them taped to the wall tiles. If you have a better way of preventing the prints from shriveling like dead leaves, please share it. I still have to press them in a book for a week. Fiber-based paper was an obvious choice since you can write on them with a regular pen (and on both faces).

The tricky part was finding a way to get the legend under the photo, like a vintage postcard. After considering a few options, I decided to go and print them on a sheet of paper with a laser printer. I then transferred the print on the photograph with acetone. For the back, I used a custom made stamp I ordered a while ago, when I was working on another postcard project, and voilà!
Time to write
I now have to write and send my babies. They display an incredible vacation I had, without which I never have taken the time to go through a photo project. How is YOUR vacation going?
CONFINEMENT – Sofa and adjacent wall (detail)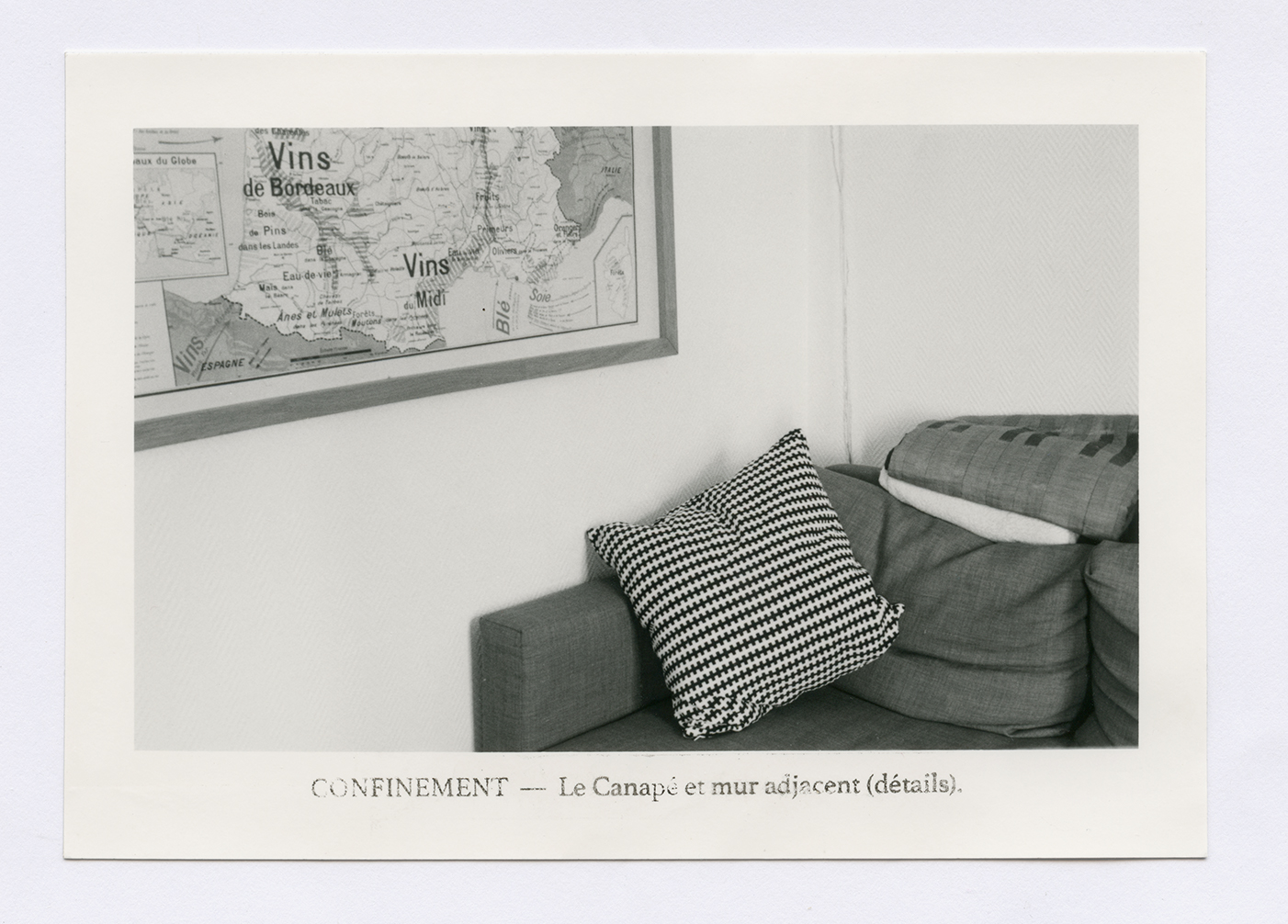 Photos shot with a Voigtlander Bessa L and Canon 50mm f:1.8 lens on Ilford FP4 film and processed in D76 1+3 dilution. Printed on Adox MCC 110 fiber-based paper, legends from a laser print acetone transfer.
EDIT : Postcards were sent and arrived at their destination!