An amazing community
Quarantine hit in March 2020. Not long after, I started to contribute to an analog photography zine launched by a few dedicated Twitter users: The Quarantine Zine. Every month, the team picked a theme. Anybody could submit a photo and a caption. Those contributing received a printed version by mail. Holding this physical object that gathered points of view from all over the world helped me get through lockdown. We were all in the same boat.
Besides, it is a great use of Twitter and the Internet in general. It shows how dedicated the online analog photography community is. I cannot thank Daniel Tim and Dan K enough. They started this whole adventure, and got me onboard.
In November 2020, after a marathon of lockdowns, I received a Twitter notification. I had been picked out of the Quarantine Zine community and won a giveaway prize from CameraFilmPhoto, a great photo lab and store from Hong Kong. The gift consisted of an Advent calendar, containing a new film or accessory to discover every 2-3 days. Needless to say, the prize is a magnificent idea, and I am still wondering how other stores did not get ahold of the concept. Anyway, one of the little doors contained a Ilford disposable camera. It was loaded with Ilford XP2 Super 400, a black and white film designed to be processed in C41. After the Nikon F4 in the last article, or my beloved Hasselblad, it sounded fun to try a disposable camera. At least it prevents me from boring you with technical details as I usually do. One speed, one aperture, no focusing, one flash and that is all there is to say.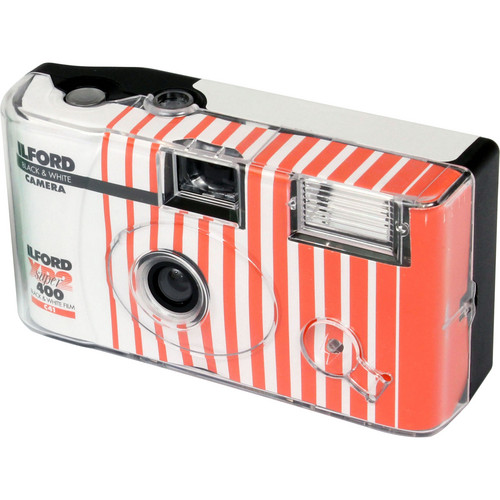 A rainy January day
It was the end of January. Debilitated by the too familiar walls of our small Parisian apartment, we decided to go for a hike in the forest, despite the icy rain. The little disposable was sitting on a shelf, untouched, probably jealous of the attention I was giving to its peers. I shoved it in my backpack. However, I forgot one major detail: there is only one shutter speed, made for sunny days, and the weather promised very little light. The film would come out underexposed by a lot, and oh boy, it did… That was not super clever of me: the negatives are so light it's hard to see any image. Nevertheless, it gives the series a grainy look that matches the mystic atmosphere of the dark and misty woods.
The results
Photos taken in January 2021 using an Ilford XP2 Super 400 disposable camera